Shelf Reflection is a monthly series where we delve into the reading habits of interesting Australians. February's reflection comes from musician Phoebe Baker.
What are you currently reading?
Tonight I am going to read Kitchen Confidential, a memoir by Anthony Bourdain… a naughty chef.
Borrowed or bought?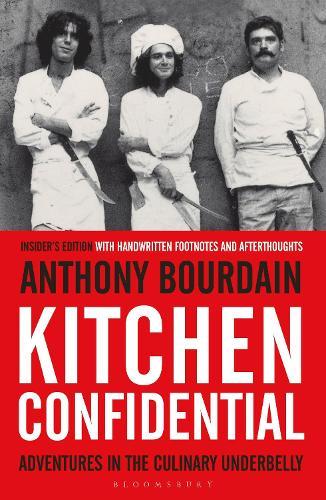 I bought this fine book from an op shop. Phrroah! What a find! I'd never heard about what Antony Bourdain was like as a writer but I remembered enjoying his show No Reservations – a kind of cooking/travel/philosophy show that was rather cocky, frank, friendly, weird and delicious. So when I saw this book I couldn't help but think it would be the same. I'm not quite sure that it is, so far there are lots of kitchen tips and none of the existential foodie beach escapades I was expecting. Perhaps I should have read the title first…
What kind of reader are you?
I read too many books at the same time. Books, books, books, I want everything at the same time, to my detriment. I'll move on to a new book, neglecting a book that I've already started for so long that when I come back to it I need to start over again. I'd estimate around 15 are being partially read at the moment…what a fool! It's rather fun though. I like overwhelming my brain with literary options and you need a book to suit your mood. My fall-back-bed-time book is often Tintin. I've read them so many times and they still make me giggle. I love reading at bed time, I lie on my side and often read with one eye open and the other shut, squished against the pillow. They call me strong eye. I don't think anyone would be very surprised about the books I read, but I do like to read books about weather and lonely planets. I also own a book called Boyzone: The True Story – it's wonderfully ridiculous.
What does your book collection look like?
Let's see. It's a mess. There is no order only piles of classics, weather books, philosophy books, cheesy autobiographies, travel books, books with excellent covers, romance novels, old Women's Day cookbooks with gross pictures, poetry books, beautiful books, psychedelic books from back in the day, too many books about Led Zeppelin, history books, and so on and so on. They are all exciting and I've probably read a quarter of them, maybe less. I'd like to live on a small island, painting the island, reading books and learning the language of the local fauna.
Many of my books have been handed down to me from my dad. My dad is an avid reader and collector of books. His 83 years have curated a spectacularly interesting range. Baboon Metaphysics is one of his latest additions. I think he's probably spent 60% of his life half-moon spectacled and behind the page. My Tintin and Asterisk & Obelix books have been with me since I was a kid. They smell delicious and you might find strange notes in them that I wrote when I was wee – footnotes and extra dialogue.
If you had to pick one book to live in for the rest of your life, which would it be?
This is tricky. If I had to live in a book It would have to be long and difficult to understand so that I could have lots to discover and learn. It would need many characters, great nature, good food, safe havens. With all this in mind Harry Potter or Lord of the Rings come to mind. I could become an elvish aficionado. But no… I choose Ralph the Rhino by Tony Edwards. Oh my gosh. What a delicious world. Talking rhinos, '80s tropical landscapes, delectable cakes, sailing, glamorous thieves. Yep. That's it. Sandcastle city here I come.