Looking for a book recommendation? Staff from Readings bookshop share what they've been reading this month.
Mark Rubbo, managing director:
I'm reading Norman Ohler's Blitzed: Drugs in Nazi Germany and I have to say – it's a pretty bizarre book. A German pharmaceutical company, Temmler, developed a methamphetamine tablet, called Pervitin. The medical corps of the Wehrmacht found that giving this tablet to the troops was a grand idea – it heightened their mood, made them less cautious and allowed them to stay awake for days on the end. Learning that the German Biltzkrieg was fuelled by what was essentially 'ice' perhaps goes some way to explaining the cruelty and callousness of the Nazis.
Bronte Coates, digital content coordinator: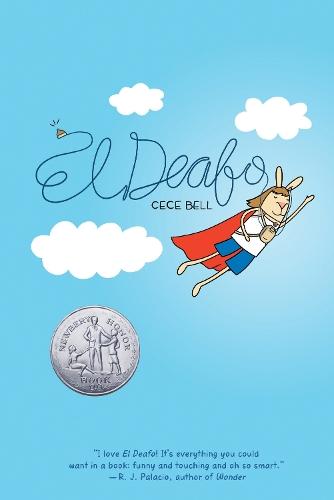 A loosely autobiographical account of Cece Bell's childhood and living with deafness, El Deafo is one of my favourite books of the year (even though it was published in 2014). I read it a few months ago, but I've been thinking about it again recently as it's a brilliant book for inspiring empathy. It's pitched for children of ages 9 and up, but even as an adult, I found it an incredibly illuminating read.
Bell cleverly used a superhero metaphor to explain what it felt like to have a powerful and awkward hearing aid as a child; the aid gives her special abilities, but also isolates her from her classmates. The story is funny, touching and utterly believable. Bell perfectly depicts childhood and early adolescence feelings with a bittersweet poignancy.
Amy Vuleta, shop manager at Readings St Kilda:
I have just picked up a new anthology that landed on the shelf this month: Something to Say is a collection of writing from from Frankie magazine over the past decade or so. Its subtitle is: 'Stories to make you laugh awkwardly in public'. I've flicked through and recognised a few familiar names from the Australian literary world (Hi Benjamin Law! Hi Anna Krien! Hi Lorelei Vashti! Hi Justin Heazlewood!). I've LOL'd a fair bit already. The stories are well balanced – heavy and light, cultural studies and memoir, silly and serious, funny and sad.
I think this book is going to appeal to readers far beyond Frankie's regular readership. With stories entitled 'In defence of pigeons', 'How to date a Muslim', 'The opposite of bitchface', 'Racism: how ironic' and 'Can we fart now?', there truly is something here for everyone. I am not a magazine reader myself – I get too distracted by all the colours and pictures and ads and don't know what I'm supposed to look at or believe in anymore – but I'm hooked on this anthology, comprised of what I think is definitely the very best bits of the magazine, all hanging out together in a suitably good-looking book.
Lian Hingee, digital marketing manager:
People around the office have been raving about The Dry for a while now, so I packed a copy to take on my recent holiday.
This literary crime novel is set in the drought-stricken town of Kiewarra where a young farmer, Luke Hadler, has shot dead his wife and son before turning the rifle on himself. His distraught parents refuse to believe that it was a case of murder-suicide, and enlist the help of Luke's childhood friend to uncover the truth of what happened that day. Aaron Falk, now a Federal Police officer in Melbourne, knows all too well how powerful the gossip mill in Kiewarra is – when he was a teenager he was implicated in the apparent suicide of a girl, and twenty years later the town still isn't ready to forgive or forget.
The Dry is a quick, compelling and immersive read that snatched me away from the real world and deposited me smack-bang into the story. When I finally emerged I feel like I had to shake the baked earth off my shoes, and the book stayed with me for days.
Ed Moreno, bookseller at Readings Carlton:
I picked Ways to Disappear off the shelf to have a look and it stopped me in my tracks. From the opening sentence, I was intrigued. I bought a copy that night and read it over the next few days. It's one of those books that is compulsive, and at the same time, the sort of book you want to savour slowly. I did both, rereading passages, chapters and section, going forward and backward over and over again. I wanted to share my copy with friends, but it's too full of notes and highlighted sections: I was enamoured.
Ways to Disappear is full of elegant language, a page-turner, a box of surprises. Bits of poetry and unique forms of storytelling sneak in here and there. A gem. Read and dream, dream and read. Disappear into this text and into another world.
Nina Kenwood, marketing manager:
In late 2014, Brit Bennett's essay I Don't Know What To Do With Good White People went viral. It's an important piece of writing about race that I saw many people sharing in the wake of the US election. After her essay first took off, Bennett was approached by a publisher who thought she could be the next Ta-Nehisi Coates. Instead, Bennett told them she was a novelist, and her debut novel was signed up. That novel, The Mothers, has just been released and it's one of the best books I've read this year.
The story is set amongst a black community in a small town in California, and follows three characters – Nadia, Aubrey and Luke – from their late teens through to their late twenties. The novel begins with seventeen-year-old Nadia's unexpected, unwanted pregnancy, and unfolds from there. This is a raw, honest and quietly heartbreaking book, filled with secrets and betrayals. It's is an absolute must-read for anyone who enjoys quality American literature – especially those looking for fiction from diverse voices.
Chris Gordon, events manager:
Alison Young has written a brilliant history book. Based on 20 years of research into the street art scene, Street Art World feels significant for the way it places the Melbourne experience into the global art landscape. The book includes interviews and snapshots of various players in the field, presenting a diverse range of voices that contribute to this transient art population.
This is a visually attractive book, with lots of pretty pictures throughout, but ultimately it's a book about the effort and the expense of having art on our streets. Young demonstrates how organisations (such as alcohol companies, cafes, etc) are now able to use graffiti's popularity for their own purposes, and suggests that the art only resonates if it remains uncharted and spontaneous. She asks what happens when an art movement becomes so successful that copycats abound and its real meaning begins to slide from view. Street Art World is a comprehensive study of an art movement that was never intended to last forever.
It seems timely to be reading this book as our local media highlights 'the danger' of letting our famous lanes be taken over by petty criminals, even as our City Council promotes 'our colourful streets'. Perhaps the answer lies in providing more accommodation, more services and more kindness for all those who frequent our laneways.
This post is part of our partnership with Readings Books. If you're keen for more book recommendations, as well as reviews and all kinds of bookish news, check out the Readings blog.